American and Moroccan diplomatic relations were at their lowest during the period between 1977 and 1980. The Jimmy Carter's administration, the 39th president of the United States, preferred to remain «neutral» regarding the Western Sahara conflict. This was confirmed through documents published by the Office of Historians regarding the 15th of April 1977 meeting (page 368) that brought together Abdelhadi Boutaleb, Morocco's Ambassador and Secretary of State Cyrus Vance.
During their meeting the two officials discussed the Shaba conflict in Zaire. The Moroccan diplomat explained to his counterpart that Moroccan troops will be sent to the area to support President Mobutu Sese Seko. A step that was meant to save an «ally» that was almost taken over by the Soviet forces.
Vance praised the Kingdom's contribution to «the promotion of peace in West Africa». However, shaken by the recent war in Vietnam, Washington worked on lowering its interventionist approach. Obviously bothered by Morocco's intervention, which was committed to face the expansion of the Russian forces in the African continent, the American Secretary of State told Boutaleb that he warned the Russians against creating tension in the region and that he was waiting for the results of his message.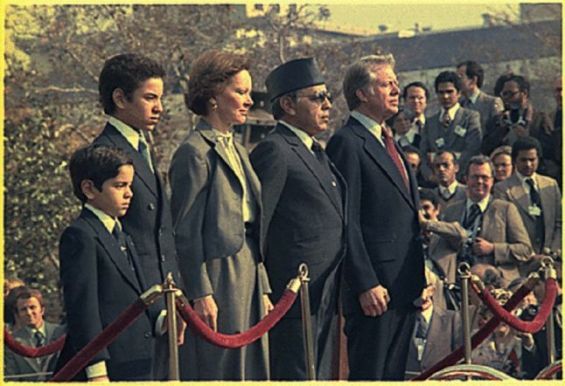 After Boutaleb, it was Ahmed Osman's turn to fly to Washington
Although communists targeted some African countries, the Moroccan Ambassador was unable to win the American support for the Western Sahara conflict. Vance conveyed to him the «neutrality" of Carters' administration described by the Office of Historians as such : «The volume documents the Carter administration's efforts to promote peace and stability in the Maghreb through ( …) serving as an 'honest broker' in the regional dispute over the Western Sahara.»
Six months after this «failure», Prime Minister Ahmed Osman was received by the American president in the White House. Speaking about the same issue discussed earlier by Boutaleb, the head of the government put all his cards on the table trying to link the Soviets, Cubans, Algerians and Angolans' attempts to destabilize African States allied with the United States. Osman referred to conflicts in Mali, Chad and Niger as examples. «We want the United State to be careful», he told Jimmy Carter.
Overall, Osman was more successful than Ambassador Boutaleb. The president told the Moroccan Prime Minister that he does not share Algerian positions in Africa and the Middle East and welcomed the role played by King Hassan II. Nevertheless, he refrained from addressing the delivery of weapons to the kingdom knowing the dangers facing Mauritania, the weakest link in the Madrid Agreement of November 14, 1975, and the fact that Rabat sent military troops to ensure the security of the Mokhtar Daddah regime.
This neutrality –not to say a political refusal to deliver weapons to Morocco- was reported to Hassan II during his meeting with Jimmy Carter in November 1978.  American weapons were granted to Morocco later on when Ronald Reagan was elected president and Hassan II visited Washington in 1982.